ProTalk's fourth episode will be available on Wednesday, September 8th!
In this episode, our Benefits Specialist, Heather Whitley, discusses the process of administering all benefits, including medical, dental, and vision insurance, life insurance, short- and long-term disability, and 401(k) plans.
News of the Day
Please consult the attached memo for an update on vaccines, face masks, and other information regarding COVID-19. Click Here
Managers, please remind employees and new hires to check ProVantage email accounts at least every other day.
Please note that our office will be closed on Monday, September 6th due to Labor Day. We will return on Tuesday, September 7th at 8:00 a.m.
Employee Spotlight of the Week!
Shout Out of the Week:
Andrea R., Scheduler
Ashley M., Schedule Coordinator
"I would like to shout out the construction services scheduling team for stepping up when we had an emergent need for support. On Thursday, 19 August 2021, the ProVantage team had a sudden loss of manpower that left no one to take care of the per diem needs of our field teams. Andrea Razor and Ashley Mathhues immediately stepped up to ensure these tasks were taken care of, without letting any of their normal tasks suffer.
Thank you to Andrea and Ashley for not only discussing our core values but also exhibiting and living these values. "
- Nick Lay, Director of Construction Services
____________________________________________________________________
Hi team! If you're still not receiving daily emails, or you're having other issues with your ProVantage account, it's likely because you haven't set up Outlook since the transition to Microsoft 365.
If you've been experiencing email difficulties, please consult the instructions below (based on your device) to properly set up your Outlook for Microsoft 365. Thank you!
Frequently Asked Questions -
____________________________________________________________________
Facebook Friday | 09.03.21
Tips for Staying Healthy on the Road
1. Bring smart snacks.
Fill a cooler with ice or cool packs and load it with plenty of nutritious, easy-to-eat snacks like low-sugar yogurt cups (choose plain or Greek to avoid mega-doses of sugar), string cheese, fresh fruit, homemade granola bars, cut-up veggies and hummus, healthy trail mix (keep track of portions to stay out of danger food territory), unsalted nuts, dried seaweed snacks, or preservative-free meat jerky.
2. Choose water.
Bring a few reusable (BPA-free) water bottles and fill 'em up at every rest stop. If overnight lodgings include a freezer, chill bottles while you sleep for ice-cold H20 all day long. Avoid soda and creamy, sweet coffee drinks, which pack unnecessary sugar and fat and (if caffeinated) actually contribute to dehydration.
3. Stretch your legs (and shoulders and neck).
Stop frequently (at least a few times a day) to get out of the car, move around, and do a few stretches. The hip flexors, lower back, shoulders, and neck are most likely to tense up after a few hours at the wheelTrusted Source. If the road runs along a national park or other hiking terrains, consider making a pit stop every once in a while for a short walk in the woods.
4. Don't forget the SPF.
No trucker burn here! Windshields and windows might keep the bugs out of the car, but they don't fully protect our skin from the sun. Slather on some broad-spectrum SPF 30 or higher at regular intervals to keep skin safe.
5. Keep eyes on the prize.
A good set of sunglasses is essential to protecting the eyes from the sun. Exposure to too much sunshine can damage vision and even cause certain kinds of eye cancers. Light-colored eyes are often more sensitive to light, so blue, green, or grey-eyed guys and gals should take special care to protect peepers from the sun. Bring along a pair of high-quality sunnies that protect against UVA, UVB, and HEV light. A polarized pair can help cut down on glare, making driving safer and more enjoyable.
6. BYO gym.
No treadmill? No problem. Pack sneakers, gym clothes, and small exercise equipment like resistance bands or a yoga mat to turn any quick stretch break into a mini-workout. Print out (or save on a smartphone) plenty of bodyweight workouts for hotel rooms or mornings when other road-trippers are moving slowly.
7. Practice perfect posture.
Especially if driving for more than one day, comfort in the driver's (or passenger's) seat is essential. Adjust the seat and bring pillows and seat supports to make the car seat as comfy (and ergonomically correct) as possible. Sit up tall and take frequent breaks to roll the shoulders, stretch the neck, and realign posture.
8. Stay engaged at the wheel.
Don't just sit there like a bump on a log! It's not exactly an hour-long cardio-fest, but even when sitting in traffic you can suck in the abs and squeeze the glutes to keep muscles working.
9. Choose meals wisely.
There are only so many carrot sticks a person can eat before hankering for a real, hot meal. From fast food drive-ins to gas station markets, road food is notoriously unhealthy. For a lighter meal, look for grilled items, plenty of greens, and don't be shy about asking for a sauce on the side.
10. Get plenty of rest.
"Drowsy driving" isn't just unpleasant; it's downright dangerous. Get off the road when feeling sleepy or alternate drivers to keep fresh eyes on the road at all times.
11. Keep the brain active.
What's a road trip without a bumpin' playlist and plenty of off-key singing at the top of your lungs? The tunes make the trip, but an audiobook or podcast can help pass the time when travel buddies are too tired for a sing-a-long. Everyone will learn something new, exercise their brains, and a bit of new knowledge or an interesting story will make the miles fly by.
____________________________________________________________________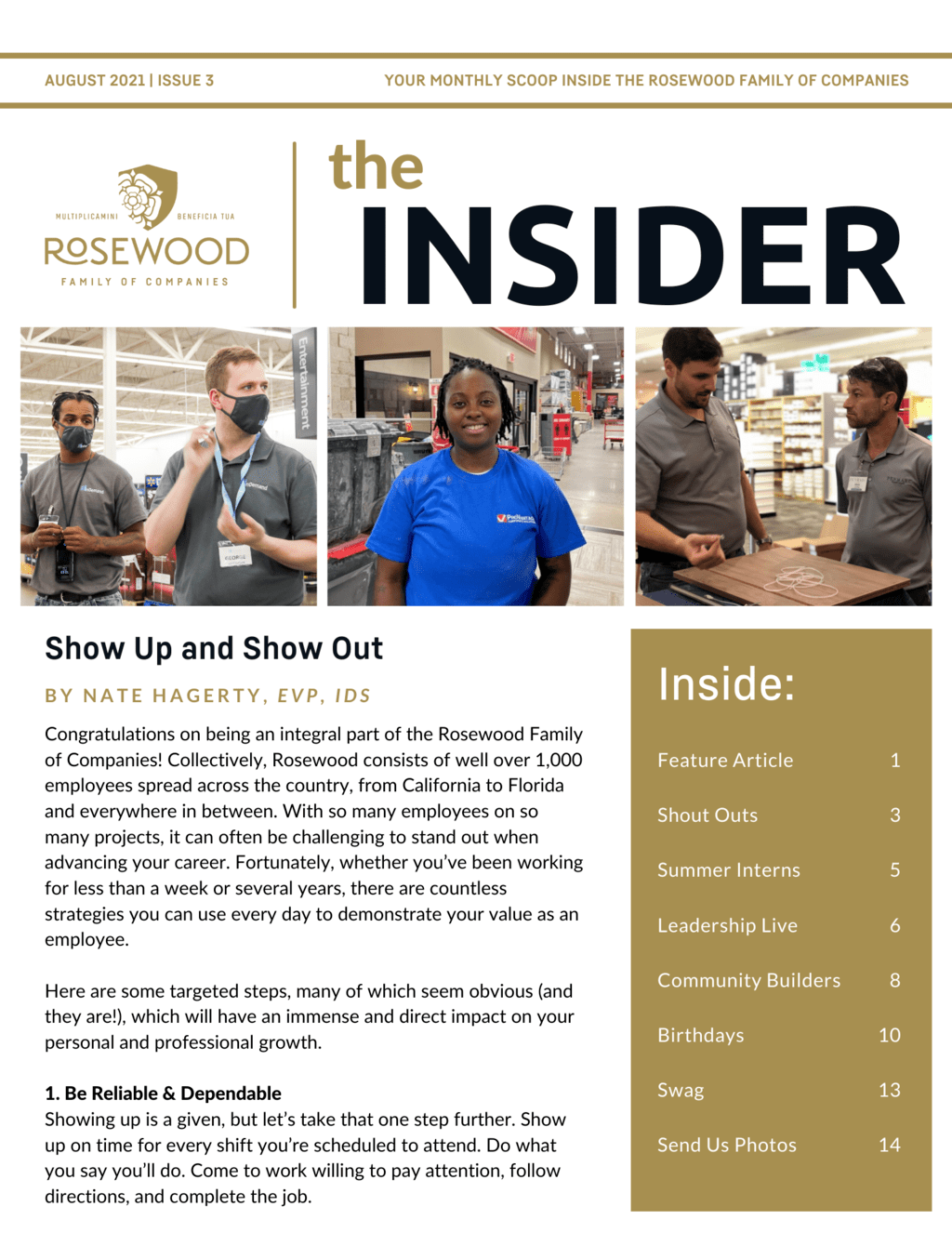 Hot off the press! Check out the latest edition of The Insider for all your Rosewood news.
____________________________________________________________________
Did you miss the live recordin
g of Leadership Live? Don't sweat it!
____________________________________________________________________

🚨
Updated COVID Guidelines for Field-Level Employees
🚨
Team, please consult the attached memo for an update on face masks, vaccinations, and everything pertaining to COVID-19 guidelines.
____________________________________________________________________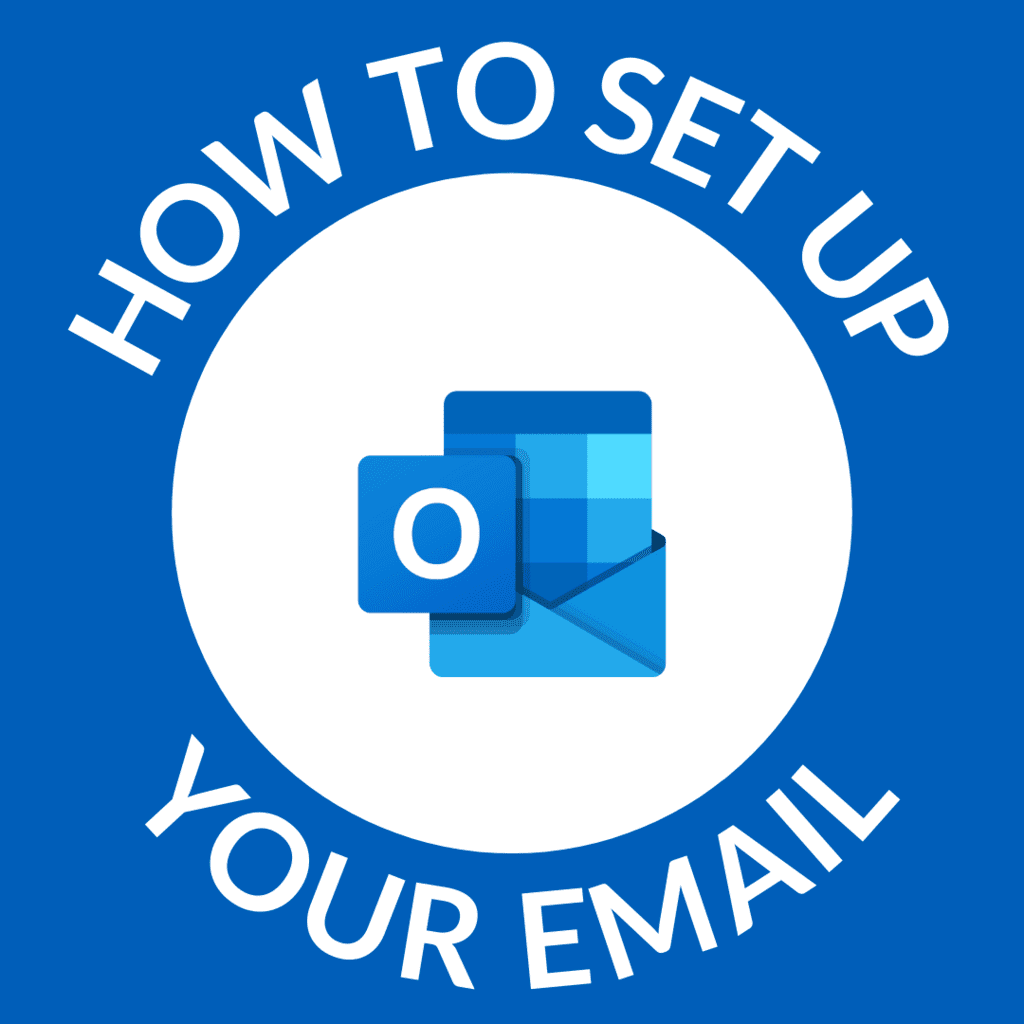 Hi team! If you're still not receiving daily emails, or you're having other issues with your ProVantage account, it's likely because you haven't set up Outlook since the transition to Microsoft 365.
If you've been experiencing email difficulties, please consult the instructions below (based on your device) to properly set up your Outlook for Microsoft 365. Thank you!
Frequently Asked Questions -
____________________________________________________________________
ProTalk is back with its third episode!
Support Manager Trey Coley joins Scott to discuss the ins and outs of traveling with ProVantage. Trey offers excellent advice on the entire travel process, from motel codes and per diem to optimizing your experience with travel partners.
If you're currently traveling with ProVantage, this is an episode you do not want to miss.
____________________________________________________________________
ProTalk: Word of the Month
Congrats to Episode 3's winners:
Tim Class
Jen Shutts
Elmer Flores
Marketing will be sending your prizes shortly!
Interested in winning some free ProVantage Swag? Don't forget to submit the Word of the Month for Episode 4 of ProTalk with Scott J. Medeiros.
If you don't know what Word of the Month is, here's how it works:
At a random point in each episode, the guest will pick a word, any word, to be the Word of the Month.
For the following month, until the release of the next episode, there will be a survey in the ProDaily where you can submit the Word of the Month. But, be quick! Because the first 3 listeners to submit the Word of the Month will win one ProVantage swag item.
Good luck & enjoy the podcast!
____________________________________________________________________
If you know someone who would be a great fit for ProVantage, have them apply today!
Here's everything you need to know:

Referral Bonus Payout:
$50 for EACH Field Representative You Refer
$100 for EACH Skilled Applicant You Refer (LIT, ASST Lead, Carpenter Assistant)
$150 for EACH Management Level Employee You Refer (Lead, Carpenter, Manager)
Qualifications:
Average grades of 3.0 or higher are required and the reward is granted after the new employee works 200 hours.
____________________________________________________________________
Check out this terrific deal on lodging from Wyndham Hotels & Resorts!
Attached you'll find a flyer offering a 10% discount for ProVantage employees. To receive the discount, visit WyndhamHotels.com and use the Corporate Code 1000054787 or call (877) 999-3223 and ask for the discount associated with ProVantage Corporate Solutions.
____________________________________________________________________
Here's an exciting offer from Red Roof Inn!
Attached you will find an updated flyer showing the 20% discount Red Roof is now offering our employees for both personal and business travel. Feel free to reach out to Denice Fleshman to secure even lower rates. Her contact information is listed below.
Let's continue to be financially savvy when booking hotel stays during your assignments!
Denice Fleshman:
(540) 522-4317
dfleshman@redroof.com
____________________________________________________________________
Attention Simi Valley Employees:
La Quinta Inn & Suites by Wyndham Thousand Oaks--Newbury Park is now offering ProVantage employees a rate of $84.00 for the duration of this project! It also includes Wake Up on the Brightside Breakfast, complimentary parking, and complimentary internet access.
This rate can be obtained by booking online using our corporate code or calling the reservation line @ (800) 407-9832.
Please feel free to reach out to us if there are any additional questions or concerns.
____________________________________________________________________
Happy Workiversary to these team members!
Week 08/29 - 09/04
08/29:
3 Ye
ars
- James "Chops" Gelzon
08/30:
1 Ye
ar
- Deshayla Bohannon, Kevin Ervin, Lucy Middleton
09/01:
2 Ye
ars
- Ashley Mathhues
09/02:
09/03:
1 Ye
ar
- Jayden jones, Matthew Spann
Happy Birthday to:
August 29 - Steven Conoly, Jada Cooper, Rakyhia Cosby, Daniel Guagliardo, Bath Kuol, Phillip Penn, De'Marco Smith, Kyle Wilson
August 30 - Elena Ballerstein, Ernesto Chavez, Phillip Cheeves, Stephon Fortune, Rontrey Haskin, Catherine Lyon, Kianna Medina, Landis Thompson, Machael Underwood
August 31 - Ashley Bolin, Mickel Brown, Damian Bynum, Tonya Copper, Harold Cosby, Anthony Miller, Kayla Pettiford, Malik Quinones, Adriana Smith, Chantea Terrell, James Worrell, Brittany Young
September 1 - Josh Boone,Carla Castillo, Robyn Hall, Josefina Hernandez, Tynese Maxwell, Joshua McKinney, Ryan Sanchez, Christopher Sledge, Tyler Thompson, Deshan Watson
September 2 - Emilio Ballesteros, Kenetra Barnett, Steven Byrd, Jihad Conner, Tajali Garcia, Zachary Jenkins, Jake Jorstad, Kelesha Robbins, Jalen Warren
September 3 - Theharis Amanatidis, Shawn Bryant, BillieJean Cox, Marckel Daniels, Angela Holder, Markel Murphy, Tamel Price, Daniel Rodriguez, Steven Spragle, Richard Welte
September 4 - Lawrence Banks, John Benevides, Ryan Blake, Irene Gonzalez, Bradley Hall, Phajja Hines, William Huck, Chrystal Johnson, Lawrence Johnson, Quiana Lobdell, Myles Pearson, Kayla Smith, John Thomas, Donta Trice, Michael Wade
____________________________________________________________________
Do you have a coworker in mind that you want to thank or give a shout-out to? Someone who has a Spirit of Excellence and goes above and beyond? Submit their name and describe what they did and you will give them a chance to shine just as they make our company shine! Each month we will draw one shout-out for a prize and feature on Facebook.
____________________________________________________________________
Save money with the following hotel codes:
____________________________________________________________________
Don't Forget to Bring Your Own Tools!
Tools are an essential aspect of your job at ProVantage, so don't forget to come prepared! Please show up to work every day with all of the following equipment (listed below & pictured above), and remember: it's your responsibility to buy tools.
What to bring: Tape Measure, Box Cutter, Rubber Mallet, Screwdrivers, Basic Socket Set, Slip Joint & Angle Cut Pliers, Cordless Power Drill, Level, and Steel Toe Boots.
*If you need to borrow a tool from a coworker, please ask beforehand and remember to return it*
Don't know where to buy tools at an affordable price? Check out the link below!
____________________________________________________________________